Watch the Important Video Above, and Read on!!
Yes, its True. Now You Can Claim Huge Blocks of Hidden Surplus Funds Money - Both Tax and Mortgage!!
You Can Do it Yourself, OR – We'll do all the 'heavy lifting' for you – Partner Up with Us and we will:
Find the Claimant - we do the skip tracing!!
Strike the Deal For You - you don't need any negotiation skills!!
We Will Buy their Claim with our investor money! Your costs total a few dollars per file (copies)
We Will Hire the Attorney and Pay all Court Costs! On our dime!
And, of course – Pay You a Handsome Commission for Working with Us!!
OR - You Can Do It Yourself - The Course Is Complete!
If you're ready to stop worrying about finances, read the important letter below for exciting details.
Get The Free Download - Upper Right Hand Section of this Page!
And Like us on Facebook -Stay up to date on how we are putting Deals together and Making Money!
---
Here's our Open Letter to You:
Dear Entrepreneur:
It's no secret that tax and bank foreclosures are happening every day, across the Country.
What you may not know is foreclosures are creating huge overages (surplus funds) every single day.
Especially Now, as 'Newbie' Investors are Bidding up Property to Retail or Higher Value!
If you've done any research, you know there are methods for getting that money out of the court's accounts, into your account!!
BUT, you need to know where the money is and how to get it!!
You could have amazing investigative powers and a team of researchers, but without knowing where to look for the money, and how to get it out legally, it's just interesting information.
Now imagine for a moment that you had a tested, proven 'treasure map' that showed you how to find the money and how to get it out of the court and into your account, without worrying about finder laws.
Think that would take your income to another level? You're right, it would!
But, aside from trying to be a 'finder' (limiting your income) and jumping through regulatory hoops, there hasn't been a proven, simple way to get these mountains of cash, that works in every State.
Until now that is....
Yes! ... what once was impossible is now easily achieved... And what we share with you will have a bigger impact on your financial future than anything else you have ever seen online.
Do you wish you could:

Claim huge blocks of money, some $100K+!, with zero competition?
We're the only ones that go after bank and HOA overages!

Partner with a company that will train you and do all the 'heavy lifting' for you?

Operate a business that will allow You to call the shots and has no limit on income?

Have access to YEARS of files, where you could literally pick & choose what to take?

Help other people while you are creating personal wealth?
If you said
yes, then we have good news for you, because our proven, tested system allows you to do all of this and more, quickly and easily flooding your bank account with surplus funds.
Make no mistake - this is not a 'get rich quick' program. You do have to put effort and time into the program. But, you get paid for your effort - very, very well paid.
Get The Free Download - Upper Right Hand Section of this Page!
And Like us on Facebook -Stay up to date on how we are putting Deals together and Making Money!
---
Where Does All This Money Come From?
Properties foreclose through Counties(tax foreclosure), Mortgage Companies & HOA's daily. Yet hardly anyone knows what happens after foreclosure – even attorneys don't know about this!
2 Foreclosure examples:

A home forecloses for $250K and the mortgage debt totals $200K, including attorney's fees. The bank can't keep the overage. The bank gives that $50K to the Court. A judgment/lien holder can collect from the proceeds. You can strike a deal with that lien holder! If there are no liens or judgments, the ex-owner can collect.
Courts will tell you the money doesn't exist. We Teach You How and Who to Ask, to Get the List!
The County doesn't have the manpower to contact anyone. When they do its at the foreclosure address!
Okay, so you're saying, 'Yah, but houses are selling for less than the bank is owed'. You're right - over the past few years, homes often sold for under the amount owed. Here's another example that shows why this doesn't matter:

Homeowner had a loan for $100K in '03, and took a 2nd for $200K in '06 because the market took off. The 1st mortgage forecloses, and sells it for $150K. There's $50K left. That $50K Surplus is due to the 2nd mort. co., which has sold its debt or is out of business.
The money is still -
we can make a deal with the debt holder!
Want to know how many 2nd mortgage companies went out of business? Go here: Out of Biz Banks
This Happens Every Day!
Number of U.S. Counties by State = Opportunity!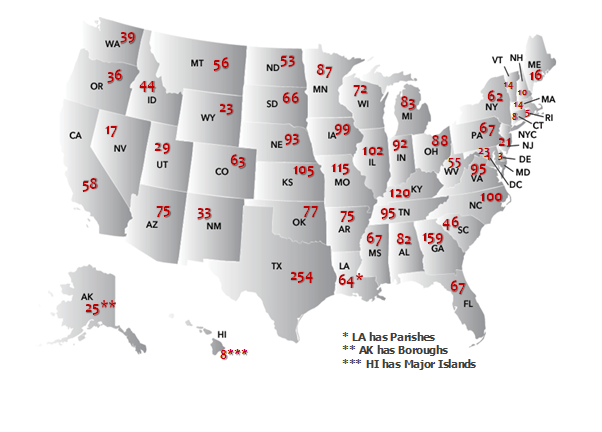 Do the math. Assume an average County has 20 foreclosures per year with overage, and the average overage is $15K. These are conservative numbers, guys.
That's $300K generated in surplus funds per year, per County. Over 10 years, that's $3 Million/County. There are over 3000+ Counties.. That's over Nine Billion Dollars, Nationally!
Let me clue you guys in... It's way more than that... When we have a downturn, everyone gets hit, not just folks without equity... It would not surprise us if the number was closer to $50,000,000,000.
Think they want to give the principal to the owners, when they can make interest on $50 Billion Nationally?
THESE MONIES ARE NOT ON STATE UNCLAIMED WEB SITES!
Without a legal loophole system, you can't get the money. You can be a finder, and make a small commission for a ton of work, or you can use our program...
For those of you that think we're 'conspiracy nuts', ask yourself this – If you had the resources of a State, could you find folks? Seriously, if you had the following info, could anyone hide from you?
ºBirth Certs ºDeath Certs ºUtility Bills ºVoting Records ºDMV ºCriminal
ºPersonal Prop Tax ºReal Prop Tax ºIncome Tax ºGun, Hunting, Fishing Licenses
ºMarriage ºBusiness Licenses ºJudgment, Lien,UCC filings ºOften, Banking acct's
They'll find you for jury duty, but not if they owe you money? Any Private Investigator will tell you the States have no excuse for not finding the folks.
Get The Free Download - Upper Right Hand Section of this Page!
And Like us on Facebook -Stay up to date on how we are putting Deals together and Making Money!
---
$how Me The Money!! - $urplus Lists Below!!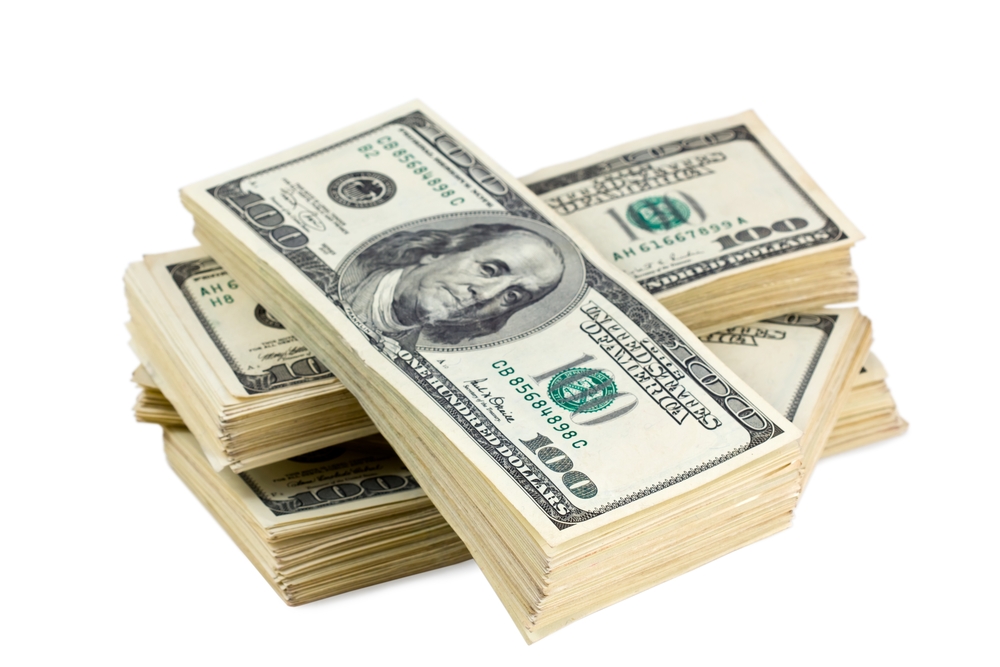 Look at these Overages below from Counties in the US. This is just a small sample from a few counties, Imagine how much MONEY there is when you factor in that there is over 3,000 Counties in the United States!
---
How Does this System Work?
There are 2 ways to use the system..
1. Build your own business, make your own deals, maximizing income. Everything you need is in
the e-book. We have folks doing that now.
2. Be a researcher. Using our system, you find deals, do basic research, refer the deals to us &
make a commission while we work the deal for you.

We'll find the people.

We'll do the deals.

We'll pay any buyouts to claimants.

We'll hire and pay for the attorney.

We'll pay you a handsome commission.
With surplus funds most folks start as researchers, save money, then do deals on their own..
The system works part time, full time, or as a stand alone business. You can make $1000's per week working during your lunch hour*. Or you can build a multi-million dollar business full time.
The System Works For Anyone Regardless of Background, Education, Etc.
You can start making money almost immediately(6-14 weeks).
It's so simple we tested it on a 12 Year Old and They Found $30,000 in 30 Minutes! (Shawn's Daughter)
Get The Free Download - Upper Right Hand Section of this Page!
And Like us on Facebook -Stay up to date on how we are putting Deals together and Making Money!
---
Testimonials?
What Buyers of the System(s) are Saying -
D, TN– Can't thank you guys enough. I do deals myself, & ran into issues with check disbursement. I contacted support, & waited less than 2 days for detailed fix. Love the free email support.
B, FL - I've done judgment collections for yrs. I knew this money existed but had no idea I could get it. You've even shown me new methods for judgment collection. WOW!!
P, FL– I did exactly what you told me not to. I turned in files and stopped working to see if I'd get paid. 2 months later I got my first check and got paid on 3 deals since. If I had kept working, I'd be making checks consistently. Don't worry about me – I'm sending files every week now.
S, VA– I sent in a pretty rough email to support. They answered my question and set me straight.. I knew when you were ready to cut me loose for being a jerk, you were the real deal.. I changed my attitude and now I'm consistently getting paid... thanks, guys!!!
J, AZ- I've had businesses, including loss mitigation. NOTHING has this kind of upside.
T, NV- Holy S***! Redemption makes short sales look stupid. 5 people contacted,2 agreed, WHAT! I'm out of pocket under $150, looking at $40K+.-
---
If This is So Powerful, Why Tell Anyone?
Guys, look up at the numbers again. Because you have to do research in the court house for surplus funds,we are creating a small army of business folks we can partner up with! And this info can literally change lives. Unlike judgment recovery, you're actually helping folks, as you make money!
---
What do We Get with the System?

A treasure map' showing you how to find the files - not easy without our directions!!

A Step by Step Guide for Securing the Money without breaking finder laws.

The worksheet we use when we identify the blocks of money, and determine who is entitled to it.

Data and resources for determining the best years of files to search for surplus.

The Documents That Allow You To Get the Money!

Scripts

Free ongoing email support at no extra cost!

Funding! When you partner up with us as a researcher, we buy claimants out upfront for you!
Bonus!!

FREE Enrollment in Updates. When/if we update the ebook, we send it to you automatically.
Failure is Not an Option With Our System.
---
How Does Surplus Funds Riches Compare to
Other Programs?
---
This Sounds Too Good To Be True? - Show Me the Money!
See Actual Checks We Collected!
Click on the checks to make image larger







To See More Recovered Checks, Click Here!
---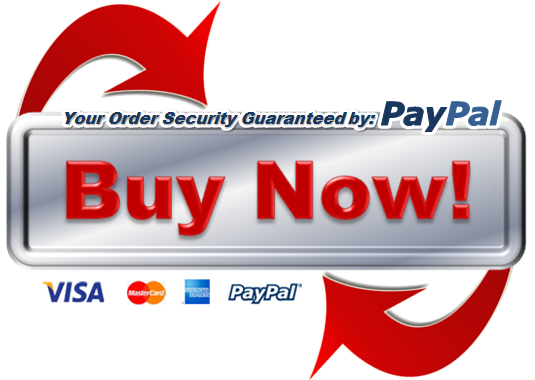 One Time Payment; $0 Monthly, Nonrecurring
We Reserve the right to Raise the Price of any program at any time. We will not honor any price except the one that is listed on the buy now page at the time of your purchase.
WE RAISE PRICES ON INDIVIDUAL &/OR BUNDLED EBOOKS JUNE 30TH & DECEMBER 31ST OF EACH YR.
Privacy - We consider your privacy important. No info will be sold, traded, or given to any entity.
Security Policy - We use Paypal to keep your order information secure. We have established a Secure Shopping Guarantee for every transaction that you make with www.surplusfundsriches.com, and via our re-direction sites: newhouseforless.com/buynow.htm and the-results-team.com/buynow.htm . Should any unauthorized charges appear on your credit card as a result of shopping with any of these three sites, you must notify your credit card provider in accordance with its reporting rules and procedures. We will cover the liability of purchases made through this web site only if the unauthorized use of your credit card resulted through no fault of your own. If your bank holds you responsible for fraudulent charges, we will cover your liability up to $50.00.
Get The Free Download - Upper Right Hand Section of this Page!
And Like us on Facebook -Stay up to date on how we are putting Deals together and Making Money!
---
Is There Some Kinds of Guarantee? Terms/Conditions?
---
Shawn is Available for Pre-Buy Questions!!

9AM to 1PM Eastern Standard Time, Mon – Fri @ 704-791-9398 Cell Phone

You can also email Shawn at admin@surplusfundsriches.com

THIS IS FOR PRE-BUY QUESTIONS ONLY.

IF YOU'RE LOOKING FOR SUPPORT, GO HERE - http://www.surplusfundsriches.com/support.htm

*Earnings Disclaimer:

We have no idea what your work ethic is, how well you follow directions, or your intelligence level. The averages we give are our own experiences. We do not, and would never guarantee a set income amount or that you'll make money at all. Sorry, but there are too many 'info junkies' out there that buy programs and never apply them or don't make a real effort. Also, this is not a get rich quick program. Further, we don't know what the average file will be in your County. Averages are from our experience, Nationally.

We're trying to create an 'army' of disciplined, hard working folks that want to make money and are willing to apply themselves.

Judgment Recovery Business Training Course? That's crazy. You're going to have to find debtors who have money or property that you can garnish or possess. And you have to be a collection agency. No thanks! This blows away judgment recovery business training courses - the money is already sitting there to recover.